Spektroskopska i redoks analiza kompleksa biliverdina sa jonima bakra (II)
Spectroscopis and redox analysis of complex of biliverdin with copper (II) ions
Doktorand
Dimitrijević, Milena S.
Mentor
Mojović, Miloš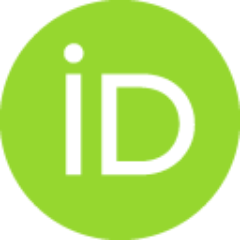 Članovi komisije
Spasojević, Ivan
Dimitrić-Marković, Jasmina

Sažetak
Biliverdin (BV), proizvod katabolizma hem grupe, u interakciji sa prelaznim metalima može da gradi komplekse, ali detalji ovih interakcija u fiziološkim uslovima nisu dovoljno opisani. Ovde su ispitane koordicione/redoks interakcije BV sa jonima Cu(II) u fosfatnom puferu na pH 7,4, koristeći ultraljubičastu-vidljivu spektrofotometriju, masenu spektrometriju, ramansku spektroskopija, metodu nuklearne magnetne rezonacije (NMR), metodu elektronske paramagnetne rezonacije (EPR), fluorimetrijske i elektrohemijske metode. Pokazano je da BV formira stabilan koordinacioni kompleks sa jonima bakra u stehiometriji 1:1. Struktura BV je više planarna i energijski stabilna u kompleksu. Kompleks je pokazao jake paramagnetne efekte koji su pripisani nesparenom delokalizovanom elektronu. Delokalizovani elektron može poticati iz BV ili od jona Cu(II), pa je kompleks sastavljen ili od katjona BV radikala i jona Cu(I) ili od anjona BV radikala i jona Cu(III). Kompleks je podložan oksidaciji samo u prisus
...
tvu O2 i višku jona Cu(II), ili jakog oksidacionog sredstva, dok je otporan na redukciona sredstva. Biološki efekti stabilnog metalokompleksa BV koji sadrže delokalizovani nesparni elektron zahtevaju dalje istraživanje. Ovo može dati odgovor na dugogodišnje pitanje razloga ulaganje velike količine energije u katabolizam BV, koji sam po sebi predstavlja relativno bezopasan molekul...
Biliverdin (BV) is one of the products of heme catabolism that is known to interact with redox-active metals. (Patho)physiological roles of BV and details of its interactions with metals under physiological conditions, which may be interconnected, are not fully understood. In the current work, we examined coordinate and redox interactions of BV with copper ions (Cu(II)). The interactions were exaimined under conditions that mimic physiological settings - in the phosphate buffer with pH 7.4. A battery of physico-chemical methods were applied, including UV-VIS spectrophotometry, fluorescence spectroscopy, nuclear magnetic resonance spectroscopy (NMR), mass spectrometry, Raman spectroscopy, electron paramagnetic resonance (EPR), and electrochemical methods. BV and copper formed a stable coordination complex with 1 : 1 stoichiometry, with BV showing a more planar structure and energetic stability in the complex. The complex showed strong paramagnetic effects, most likely due to a delocaliz
...
ed unpaired electron. The delocalized e- may come from copper ion or BV. The complex is formally composed of BV radical cation and Cu(I) ion or of BV radical anion and Cu(III) ion. The complex underwent oxidation only in the presence of both O2 and an excess of Cu(II) ion, or a strong oxidizing agent, and it was resistant to reducing agents. The biological effects of the stable BV metallocomplex containing a delocalized unpaired electron should be further examined, and may provide an answer to the long-standing question of high energy investment in the catabolism of BV, which represents a relatively harmless molecule per se...
Fakultet:
Univerzitet u Beogradu, Fakultet za fizičku hemiju
Datum odbrane:
28-02-2020
Projekti:
Ključne reči:
Biliverdin / Biliverdin / Cu(II) ions / physiological conditions / coordination chemisty / dimethyl sulfoxide / joni Cu(II) / fiziološki uslovi / koordinaciona hemija / dimetil sulfoksid