Corrosion of steel with polyaniline based composite coatings
Korozija čelika sa kompozitnim prevlakama na bazi polianilina
Author
Salem, Ayad Abdelsalam Musa
Mentor
Grgur, Branimir
Committee members
Gvozdenović, Milica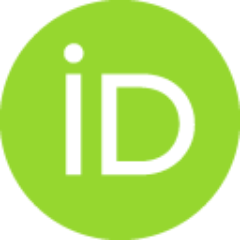 Jugović, Branimir

Abstract
The chemically synthesized polyaniline in the powdered form by the procedure recommended by IUPAC is reprotonated using sulfamic, citric, succinic and acetic acid. Typical procedures for corrosion protection investigations based on UV-vis characterization, linear polarization measurements and optical microscopy investigations are developed with composite coatings based on well-characterized polyaniline doped with benzoate. The UV-vis spectroscopy is applied to estimate doping degree of the reprotonated samples. The estimated doping degrees are as follows: the polyaniline doped with sulfamic acid 0.28, with succinic acid 0.18, with citric acid 0.15 and with acetic acid 0.13. The composite coatings are prepared by mixing the alkyd based commercial paint with 5 wt.% of the reprotonated samples and painted on mild steel. Using linear polarization method, the polarization resistances of the composite and base coatings are determined in 3% NaCl over time. It is shown that initial oxidation s
...
tate of the polyaniline, determined the values of polarization resistance which decrease in the following order: Rp(sulfamic) > Rp(succinic) > Rp(citric) > Rp(acetic) ~ Rp(base coating). For all composite coatings, increases in the corrosion potentials are observed during the time, while for the base coating decrease. The higher area steel samples with base and composite coatings are also immersed in 3% NaCl. The corrosion current density is determined after 100 h in site using ASTM 1,10-phenanthroline method. The samples are also visually inspected, and by the optical microscope. It is shown that composite coatings reduce the possibility of blister formations and delamination. The corrosion current density and the appearance of the corrosion products closely follow the initial oxidation state of the polyaniline...
Hemijski sintetisani polianilin u praškastoj formi postupkom preporučenim od strane IUPAC-a je reprotoniran pomoću sulfaminske, limunske, ćilibarne i sirćetne kiseline. Procedura za ispitivanje zaštite od korozije čelika zasnovana na UV-vis karakterizaciji, merenju linearne polarizacione otpornosti i ispitivanju optičkom mikroskopijom je razvijena na kompozitnom premazu zasnovanom na okarakterisanom polianilinu dopovanom benzoatom. UV-vis spektroskopija je primenjena za procenu stepena dopovanja reprotonovanih uzorka. Procenjeni stepeni dopovanja su bili sledeći: polianilin dopovan sa sulfaminskom kiselinom 0,28, sa ćilibarnom kiselinom 0,18, sa limunskom kiselinom 0,15 i sa sirćetnom kiselinom 0,13. Kompozitni premazi su pripremljeni mešanjem komercijalnog premaznog sredstva na bazi alkidne smole sa 5 mas.% reprotoniranih uzoraka polianilina i naneti na čelik. Koristeći metodu linearne polarizacije, određene su vrednosti polarizacione otpornosti kompozitnih i osnovnog premaza u
...
3% NaCl tokom vremena. Pokazano je da početno stanje oksidacije polianilina određuje vrednosti polarizacione otpornosti koja se smanjuje u sledećem redosledu: Rp (sulfaminska) > Rp (ćilibarna) > Rp (limunska) > Rp (sirćetna) ~ Rp (osnovni premaz). Kod svih kompozitnih premaza, tokom vremena je uočeno povećanje korozionog potencijala, dok je kod osnovnog premaza uočeno smanjuje. Uzorci čelika veće površine sa osnovnim i kompozitnim premazima su takođe ispitani u 3% NaCl. Gustina struje korozije je određena nakon 100 h, određivanjem koncentracije jona gvožđa u rastvoru, koristeći ASTM 1,10-fenantrolin metod. Uzorci su takođe vizuelno pregledani i ispitani optičkim mikroskopom. Pokazano je da kompozitni premazi smanjuju mogućnost formiranja plikova i delaminacije. Gustina struje korozije i pojava korozionih produkata blisko prate početno oksidaciono stanje polianilina...
Faculty:
University of Belgrade, Faculty of Technology and Metallurgy
Date:
04-08-2018
Keywords:
Reprotonation / Reprotonacija / Organic acids / Doping degree / Delamination / Alkyd paints / Organske kiseline / Stepen dopovanja / Delaminacija / Alkidni premaz